SmartRG SR516ac Firmware
Jump to navigation
Jump to search
Recommended Firmware Version: 2.6.2.2
Note: We do not supply Smart RG firmware updates to non-NCF members!
SmartRG firmware update/s available to NCF members only. Firmware updates have been validated and tested against a custom configuration for NCF DSL members. Non-NCF requests will be disregarded.
Caution:
We recommend that you only do firmware updates over an Ethernet connection and NOT via Wi-Fi.
DO NOT power off the modem during a firmware update, as this will cause your modem become unresponsive (stuck in brick/recovery mode).
You can verify your firmware by checking the software version on the Device Info page.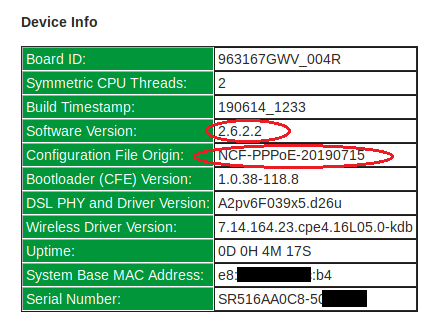 To request a copy of this firmware email support@ncf.ca. To install this new firmware onto your modem perform the following steps:
Download the firmware file and save it to a location on your computer that you can find easily.
Open a web browser and go to the address http://192.168.1.1
Select Manage Gateway (Advanced) and log in (by default the username is admin and password admin if on factory setting or your dsl password)
Click on Management → Update Software
Click on Browse
Upload the firmware file that you downloaded in step 1.
Click Update Software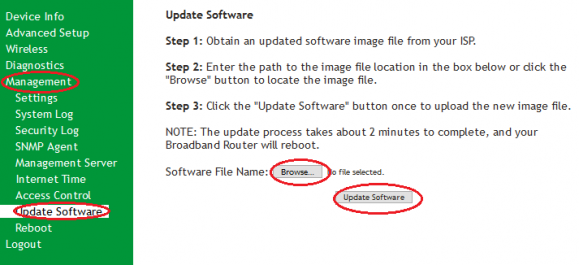 Note: the modem will reboot once the new firmware has been uploaded. This process may take up to 15 minutes to resync (DSL light returns to solid green) and reconnect (the internet light starts blinking again).
See Also