TP-Link TD-8816 Configuration
Jump to navigation
Jump to search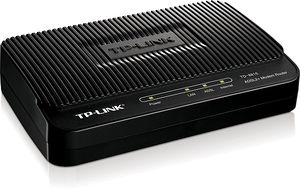 This is the procedure NCF uses to configure a TP-Link 8816 modem out of the box or after a factory reset. To learn more about configuring your particular modem, consult the manual.
Configure as router
Connect power and turn on the modem with the black button on the back.
Connect an Ethernet LAN cable to the yellow rear port
In the browser's address bar, enter the IP address for the modem interface page: 192.168.1.1
If the modem is fresh from the factory, use the default user name and password to gain access

user: admin
password: admin
DSL Quick Configuration Info

(TP-Link DSL modems)

Modem Web Interface
http://192.168.1.1
Modem login
Username: admin

Password: (see 'password' below)

VPI / VCI (ADSL)
0.35
VLAN (VDSL)
35
Protocol
PPPoE
DSL username
(eg. aa999@ncf.ca)
DSL Password
Starts with 'ncf' (not the same

as your NCF Start Page login)

Firewall
Enabled by default (recommended)
Wireless
If enabled, WPA-PSK (WPA2)
If the modem was previously configured for someone, the password would be the previous user's DSL password. If it is unknown then do a reset to factory default, using a paper-clip in the reset hole on the back. Hold for 15 seconds to reset. The user name and password will now be as above.
When presented with the TP-Link configuration page, select the Quick Setup option at the top left.
Select Run Wizard to proceed.
Now a window pops open and you can begin to set up the details of the interface.
Select Next to proceed
Set the Time Zone Eastern
Click Next
The 8816 can be set-up as either Bridge mode or Router-PPPoE mode. Bridge mode is used when it will be connected to a separate router. Router mode is used when it will not be connected to a separate router. Read more on the Bridge versus Router mode decision.
Select "Bridge"

Click Next
Ensure settings are VPI is set to 0 and VCI is set to 35
Leave connection type at default of IP LLC
Click Next
Select PPPoE/PPPoA

Click Next
Username MUST be in the form ab123@ncf.ca (NOTE the "@ncf.ca" part! - it will not work without that!)
Password uses DSL Password (This is not your NCF account password, but your DSL password and was provided to you when you signed up for service, it starts with "ncf...")
Ensure settings are VPI is set to 0 and VCI is set to 35
Ensure that the encapsulation remains at PPPoE LLC (default)
Click Next
Password protect the Admin Role
Click on Maintenance in the menu along the top of the page. Below it other options appear.
Select Administration
For the admin user use your DSL-Password or another strong password.
Enter it once and again below to confirm
Save the changes with Save
A pop-up log-in screen appears, and asks for sign-in. Use the User-ID admin and the DSL-Password just set. Return to the same configure page you were just at.
The modem should now synchronize and connect to your DSL service if the service is operating. You may need to reboot the modem to get it to connect.
Set daylight savings time
In Maintenance select Time Zone.
Daylight Saving: Enabled
Turn on SPI firewalling
In Advanced Setup select Firewall.
SPI: Enabled
Security
In January 2014 it was revealed that some models of TP-Link modem, including this model, are subject to hacking if they are running out dated firmware and if the remote access (ACL) is set to allow remote access. This page provides more detailed information on the vulnerability. Latest firmware versions can be checked on the TP-Link website.
ACL
Some older TP-Link modems were shipped from the factory with the ACL activated. This should be checked and if activated then deactivated at Access Management → ACL.
See also