TP-Link TD-W9970 Configuration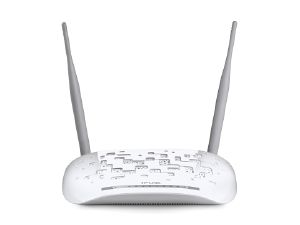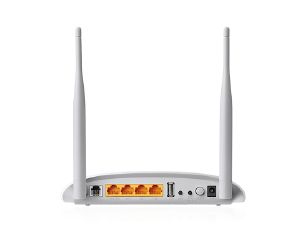 The TP-Link TD-W9970 is for use on any service on networks using Bells' DSL infrastructure. NCF sells these modems to all members.
This is the procedure NCF uses to configure a TP-Link TD-W9970 modem out of the box or after a factory reset. To learn more about configuring your particular modem, consult the manual.
Configure router for Dual-Mode ADSL/VDSL operation
Your router can support both ADSL and VDSL modes. If necessary, you could switch between ADSL and VDSL plans without having to buy a new router or even reconfigure your existing one.
Settings for VDSL
We will start with the mode used for VDSL connections. These include the following NCF DSL Plans:
Freedom 15-10/300
Freedom 25/300
Freedom 50/300
Quick Setup
NOTE: If the modem is brand new, "user name: admin" and "password: admin" will gain access. If the modem is not new, it is recommended to reset the modem to the factory defaults by holding down the Reset/Wi-Fi button for 6 to 9 seconds and then do step 1.
1. Once you access the modem from your browser at http://192.168.1.1 and login (user name: admin and password: admin), click the link high-lighted in red (Quick Setup).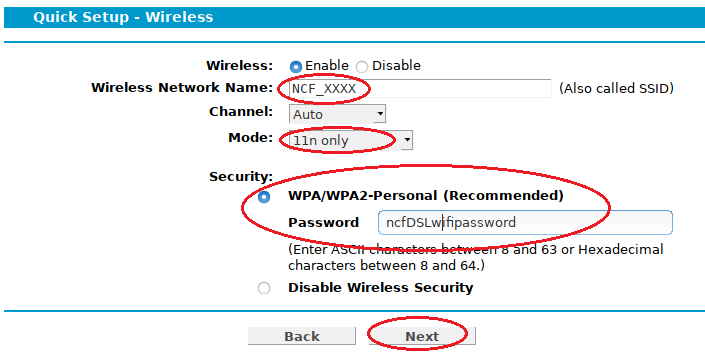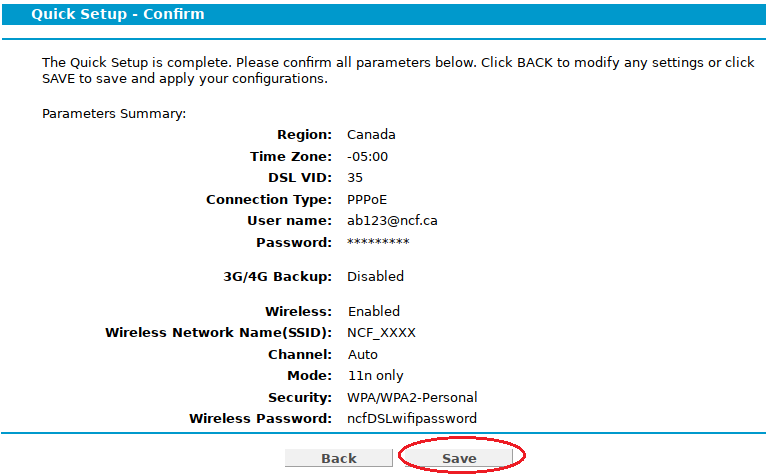 Add Settings for ADSL
Moving on now to add settings for ADSL. ADSL is required for the following NCF DSL Plans:
Freedom 6/300
Freedom 7/300
Freedom 15-1/300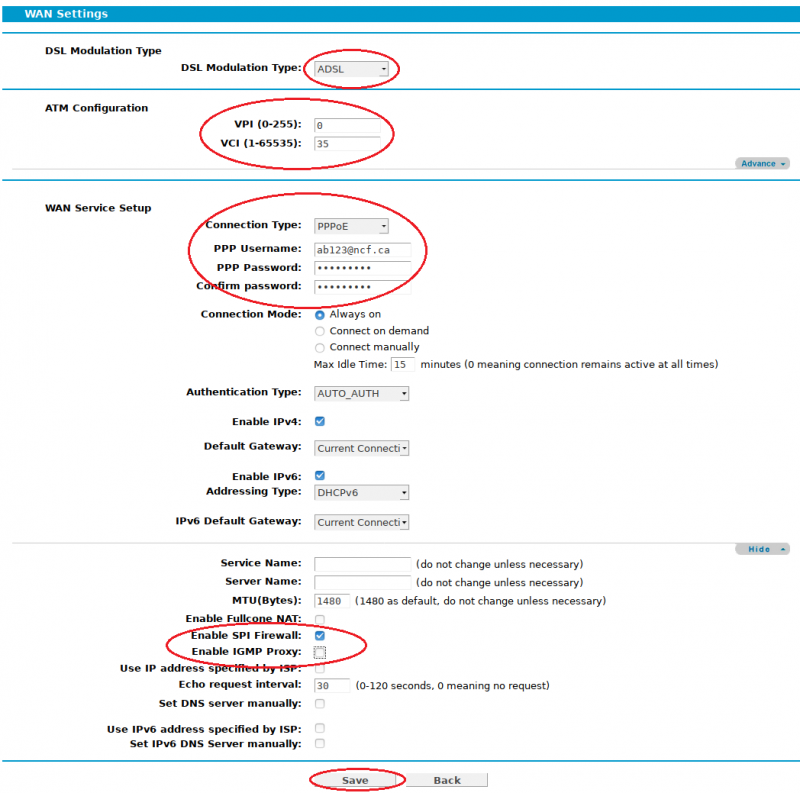 Configure as bridge
Do this only if you prefer to use your own external router rather than the one built into your TP-Link unit.
Connect power and turn on the modem with the button on the back.
Connect an Ethernet LAN cable to one of the yellow rear ports
In the browser's address bar, enter the IP address for the modem interface page: 192.168.1.1
If the modem is fresh from the factory, use the default user name and password to gain access

user: admin
password: admin
If the modem was previously configured for someone, the password would be the previous user's DSL password. If it is unknown then do a reset to factory default, press the reset/Wi-Fi button on the back. Hold for 6 to 9 seconds to reset. The user name and password will now be as above.
Click on Quick Setup.
See screenshots below: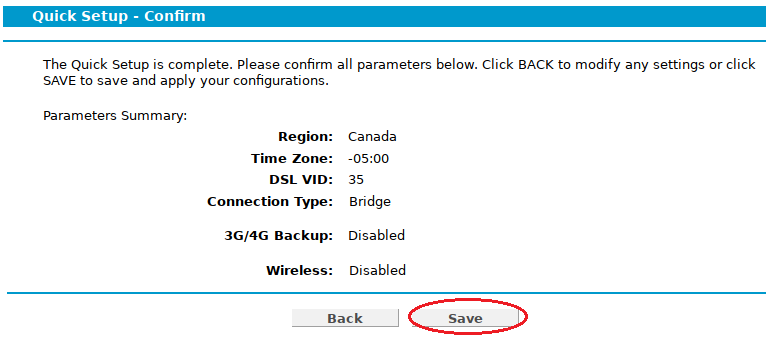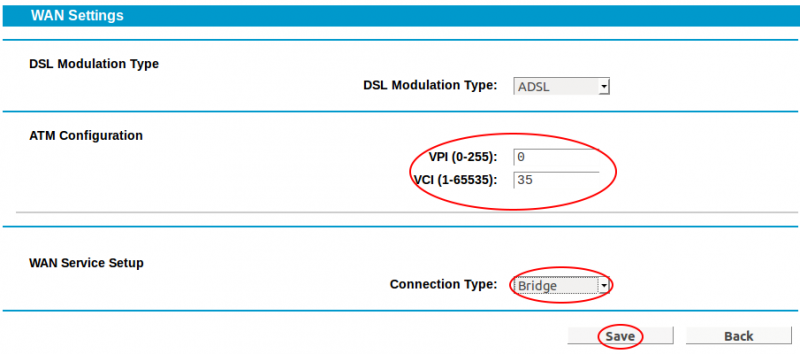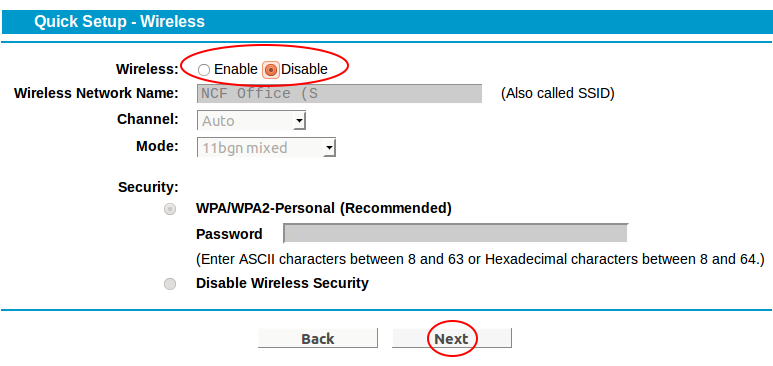 Modem Password Setup
Click on the "System Tools" link on the LH side of the page, then "Manage Control". Change the modem access password to NCF standard.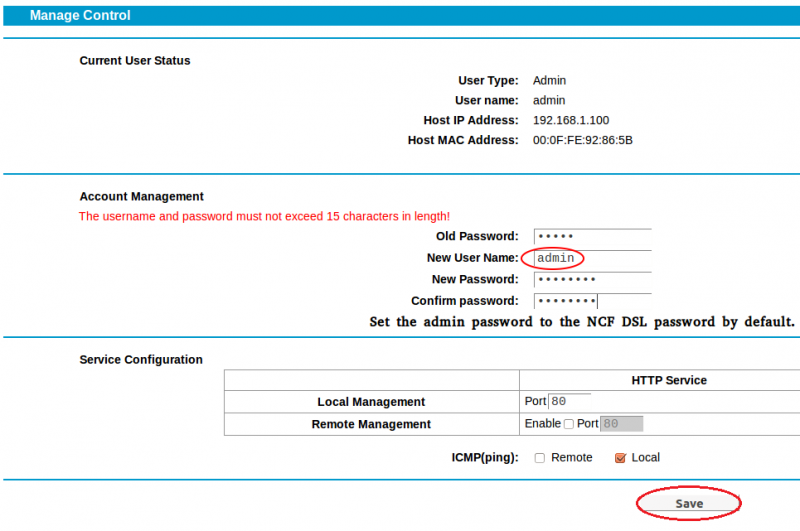 Configuring Time Zone
Click on the "System Tools" link on the LH side of the page, then "Time Settings". Set the timezone to Eastern Standard Time, enable DST (Daylight Savings Time), and set the NTP server to the NRC clocks (time.nrc.ca).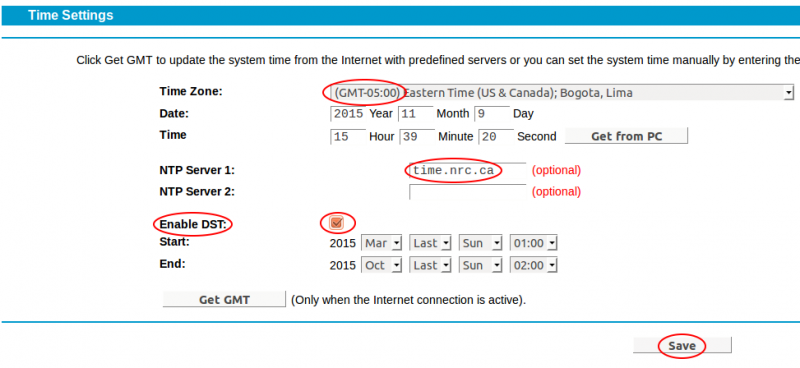 Turn on the Firewall
Click 'Firewall' in the left column
Select 'Enable Firewall'
See also