Payments and Donations
Jump to navigation
Jump to search
Cheque
Please make the cheque payable to either "NCF" or "National Capital FreeNet", and include your name and account ID (e.g. ab123) with the cheque in the envelope.
You can mail it to the NCF office or drop it off at our office in person:
National Capital FreeNet
1305 Richmond Road, Suite 206
Ottawa, ON K2B 7Y4

Phone: 613-721-1773 ext. 0
Email: support@ncf.ca
HelpDesk Remote Support Hours:
Monday to Friday: 10:00am to 7:00pm
Saturday: 10:00am to 5:00pm
Office hours:
Monday to Friday: 10:00am to 5:00pm
Thank you for being one of the thousands of people helping to make our region a better place to live.
Credit card, VISA Debit, or Mastercard Debit
Online - One time Payments
1. Navigate to the start.ncf.ca 2. Sign in with your credentials.
You will be using your member ID only and password to sign in. (This is the password you chose at sign-up)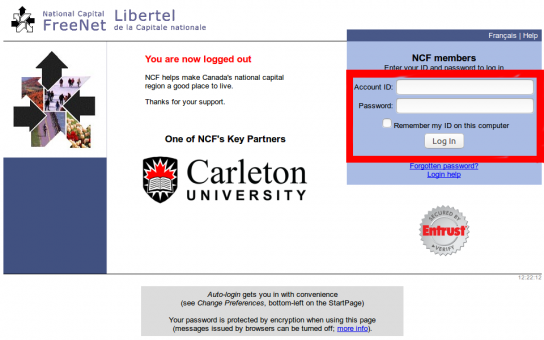 3. Click on Donations & Payments. It is in the bottom left of the page as circled in red in this photo.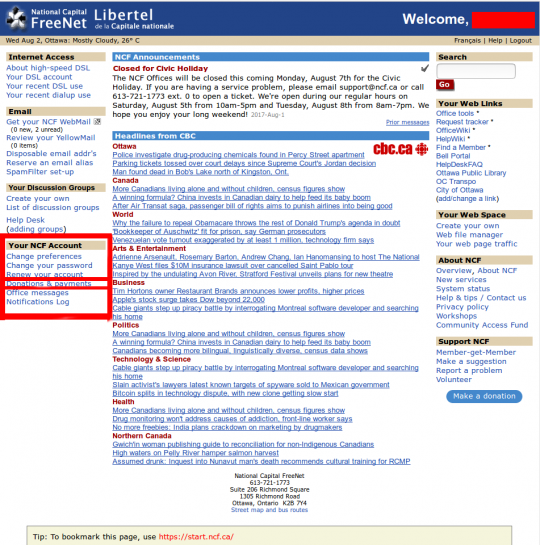 4.Click on Pay for DSL Service(as an example). You can also pay for DSL Hardware or make a donation this way.
Top, middle of the page as circled in red in this photo.

5.Fill in the requested information (amount of your bill, credit card information, and click continue).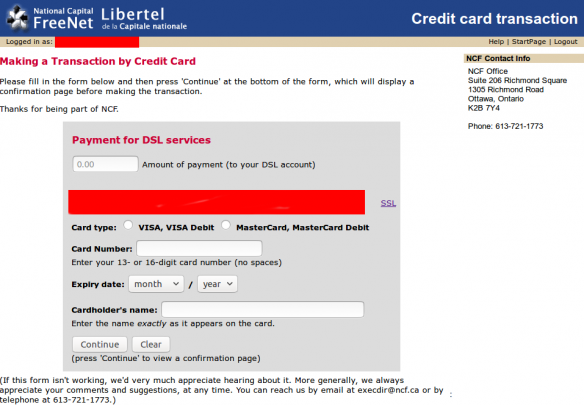 7. The next page will ask you to confirm the payment. The next will give you a confirmation that the transaction went through, along with a transaction number.
via Phone
Our office hours are 8am to 7pm from Monday to Friday, and 10am to 5pm on Saturday. Please have the following information handy when you call 613-721-1773 ext0:
Your NCF account ID (e.g. ab123)
Indicate if you want your card to be sure for a one-time payments or donations vs recurring payments or donations.
Your VISA or MasterCard card number
Your card's expiry date
Your name as it appears on the card